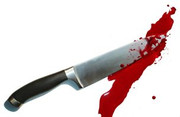 Chuck Russom FX has released Blood and Guts, a sound fx library in collaboration with Rob King.
Recorded and produced in collaboration with Sound Designer Rob King, this is a collection of gore, stabbing, and impact sounds. Use these sounds as source effects to layer into your fight scenes, zombie feasts, dismemberments, autopsies, or anywhere else you might need to add a little bit of blood, guts, flesh ripping, or bone breaking sounds.
CRFX-13 Blood and Guts features
477 sounds recorded, mastered, and delivered to you in stereo at 24bit 96K.
Delivered as broadcast wav files embedded with descriptive metadata, readable by Soundminer, Basehead, Netmix, Protools, and most other audio applications. Drop this collection into your sound library and start working today.
CRFX-13 Blood and Guts is available to purchase for $50 USD.
Chuck Russom has also introduced a new Customer Rewards Program:
We have awesome customers and it's time to give something back, so we've launched a new customer rewards program. It's very simple: when you make a purchase you receive rewards points that you can redeem for discounts on future purchases.
More information: Chuck Russom FX