Cinematique Instruments has announced the KLANG series of free instruments for Native Instruments Kontakt.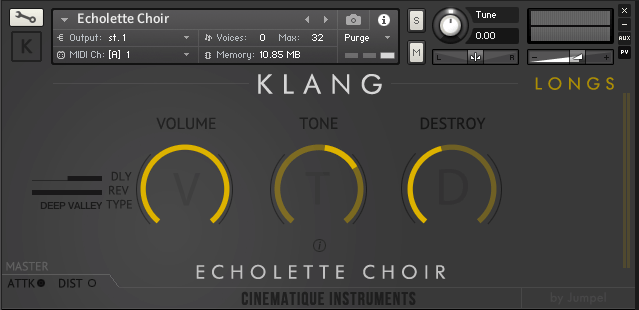 The first batch of 6 instruments is now available: Krautrock Machine, Neon Tube Buzz, Hammered Violin, Cloud Harmonics, Echolette Choir, and Unstable Guitar.
Each instrument has only 3 large controls as well as reverb, delay and 2 master FX switches.
On September 1st we have celebrated our 10th anniversary! Yeah, it was an exciting journey so far – a journey that has taught us a lot and has given us many new inspirations, ideas and musical approaches that constantly flow into our work. In order to thank you and to give all these experiences and ideas to you, we have decided to create a free instrument series, which reflects our previous work and our way of thinking.

The instruments will cover a wide range of approaches including unpublished instruments, sound experiments, theoretical musical thought concepts or random products. Each of our team mates has thought about what they have always been interested in or what they have always wanted to try out. KLANG will show how we see music, what we love and how important we find the sound in music. And there is no better name for it than: KLANG (which is German and means 'sound')
A new KLANG series instrument will be released every month. The full version of Kontakt 5.6.8 is required.
More information: Cinematique Instruments