Cinematique Instruments has announced the release of Ensemblia, a modern chamber orchestra library for Native Instruments Kontakt.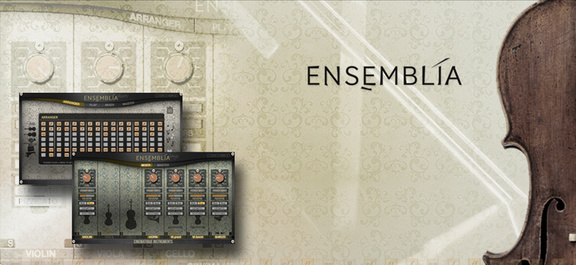 ENSEMBLIA is the sound of a modern chamber orchestra that lets you easily write organic and truly natural music. A selected range of classical instruments combined with a fine mix of unique sounds are ready for your cinematic suspense, drama and comedy or even to give a special spice to your pop and R'n'B tracks.

Ensemblia was built to easily create beautiful polyphonic chamber arrangements and textures while you are just playing chords or single notes. We didn´t recorded phrases, a powerful 16step arranger will do it.

Ensemblia can layer up to 7 instruments at the same time and gives you a quick access to a broad range of timbres and tone colors while playing. A special voicing engine will split your notes and chords automatically into separate voices and lets you individually assign them to each particular instrument.

Building Ensemblia we aimed to create a modern minimalistic ensemble sound inspired by composers such as Michael Nyman, Philip Glass or Steve Reich. Ensemblia is a really helpful and inspiring tool for composers.
Ensemblia features
Instruments include violin, a viola, a cello and a horn in several articulation such as spiccato, staccato, pizzicato and long notes (normal, ponticello, harmonics), up to 5 velocity layer and 4 round robin variations.
Also includes Baritone Trombone (re-recorded), Marimba (C2-C5), Alto Glockenspiel, Upright Piano, Shruti Box, and Bowed Psaltery from the Cinematique Instruments library.
2 separate patches: "longs" and "shorts". Instruments are spread over 7 slots – each of them provide separate mixing and editing options in order to compose the ensemble at your own requirements.
Kontakt interface with a master page and a mixer page, and shorts patch has an additional arranger page that lets you define and built up polyphonic 16 step patterns.
Both patches have a Voicing engine that lets you easily spread certain voices to particular instruments. While playing notes or chords Ensemblia automatically analyzes your playing and splits all incoming notes into 5 voices which are low – midlow – mid – midhigh – high. You can separately assign these 5 voices to each instrument at your own requirements.
The Arranger, a powerful 16 step ostinato engine that sets the velocity, the voicing and the octave for each step and instrument separately. The arranger plays the flexible pattern using only notes and chords that you are holding down. As a result you get versatile and inspiring musical patterns and riffs playable in all ranges and speed variations. There are no pre-recorded phrases. Optionally you can play in- or off-sync.
The library is available for purchase for 179 EUR. Requires Kontakt 4.22 full version.
More information: Cinematique Instruments