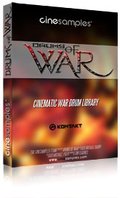 CineSamples has announced Drums Of War, a European style war drums library for Kontakt and EXS24.
Drums Of War features
Nils Liberg's new "Truly Random Round Robin" (Kontakt Only).
For ensemble style patches multiple percussionists were recorded simultaneously instead of combined later (excluding "War Ensemble" which was designed to be a quick fix kitchen sink type patch).
Open Sample Format Programming.
"Sub Boomz" designed especially for theatrical sub woofer hits (Use Caution Monitoring!).
Patches: War Ensemble, Titan Ensemble, Sacrificial Offering, Hells Deep, Earth Mover, Barbarian Siege, Ceremonial Skull Hammer, Combat Drum, Battle Drum, Ancient Torture Drum, Army of Doom, This is Spartaaa, Sub Boomz, Mammoth Calls and DRUMS OF WAR – Multi (Kontakt Only)
Drums Of War will be available is two versions for the following introductory prices:
48k/24Bit = 1.1 GB = $99
96k/24Bit = 2.2 GB = $129
Visit CineSamples for some audio demos.