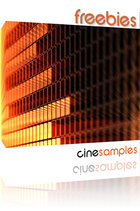 Cinesamples has (re)released some free sampled instruments for Kontakt and EXS24.
Cinesamples free instruments
Triangles: Programmed with some really clever Kontakt scripting.
Jam Buckets: You know, those big plastic buckets they play in the street.
Snaps & Claps: Just like the name says.
All instruments are available for download in Kontakt 2/3 and EXS24 formats (only the Kontakt format includes scripting features).
Visit Cinesamples for more information.