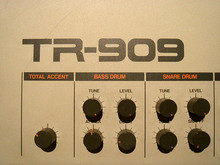 Calvin Cardioid has released a collection of free samples from the Roland TR-909 drum machine.
Are TR-909 samples still relevant these days? I know I've posted 909 samples before, but this set's more complete: 456 mono 24bit 44.1khz WAV files, each containing about 8 hits – just enough so you can "round robin" them. That's over 3600 hits.

The 909 was recorded directly to tape first, then converted to digital at 24/96 using a Mytek converter, then software SRC. They're not the thickest samples out there compared to many commercial products, but it's a fairly complete starting point where you can further compress / EQ to your liking in your own music.
The sample pack is available as a free download from the cl516 blog.
More information: cl516