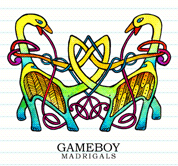 Joey Mariano has released a number of classical madrigals composed on a Gameboy.
Joey reinvents the madrigal's sound with 8bit music, including Gameboy's chord arpeggiator, extreme pitch bends, portamento effects, and glitchy break-ups.
From the II [Pause] page:
Early composers of the madrigal used only two to three voices to create counterpoint. Realizing the opportunity for reinterpretation through the gameboy sound chip, Joey Mariano set out to create a body of Chiptune madrigals inspired by early role playing and puzzle video games, Japanese folk melodies, and masters of the madrigal such as Francesco Landini. A definite departure from his normal musical approaches, Joey Mariano's Gameboy Madrigals strives to create a mood relying on melody and counterpoint instead of an ever-present, never-ending, bleed-your-ears-dry dance beat that dominates modern electronic music.
Animal Style's Gameboy Madrigals is available for free at iimusic.net [Pause], a net label that features some of the best in experimental chiptune music.