Cluster Sound has announced the release of CS-808, a Max For Live drum collection faithfully reproducing the sound of the Roland TR-808.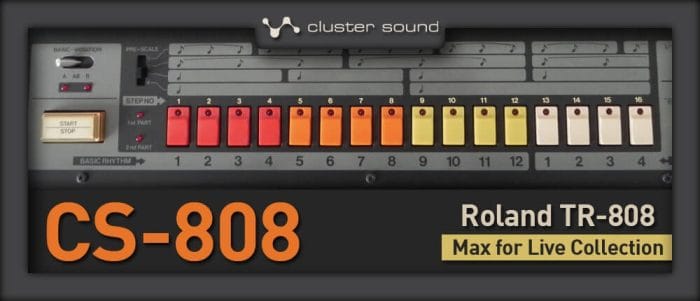 OVERVIEW — CS-808 is a collection of 16 sample-based Max For Live drum instruments faithfully replicating the 16 sound modules available on the iconic TR-808. It comes with 4900+ samples managed by multiple sample selectors, a set of extra features to shape the sounds, a super friendly user interface and 16 FX Racks to mangle the drums.

CONCEPT — Sampling is far the best way to digitally reproduce a specific setting of an hardware drum machine. And this is what we have done, very meticulously. Take for example the original TR-808 Bass Drum module, comprising of Accent, Tone and Decay parameters. If you split each parameter in 11 steps, for example from 0 to 10 as on the original hardware, you obtain 1331 possible combinations (11*11*11). And in fact, the CS-808 Bass Drum module is based on 1331 samples. So, when you select Accent, Tone or Decay in your CS-808 BD module, you are just loading and playing the sample related to that parameter combination of the original TR-808.

CUSTOMIZE — In addition to the original TR-808 parameters/selectors (Accent – Decay – Tone – Tuning – Snappy), the 16 drum instruments come also with 16 sound-specific Audio Effect Racks and with a set of extra features (Multi-Filter and Pitch Envelope sections) not present in the original TR-808 but very useful to radically shape the sounds.
CS-808 features
Size: 2 Gigabytes.
16 Max for Live Drum Moodules.
16 Audio Effect Racks.
4900+ Samples (24 Bits / 96 Khz).
Multimode Filter Section (LP – HP – BS – BP).
Pitch + Pitch Envelope Section.
Auto Normalizer.
Host: Ableton Live 9.5 + Max for Live 7.
CS-808 is available for purchase for 39 EUR.
More information: Cluster Sound / CS-808
https://soundcloud.com/clustersound/sets/cs-808-max-for-live-drum-collection