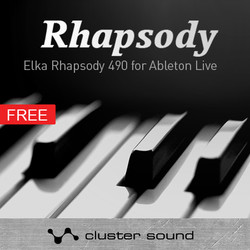 Cluster Sound has announced the release of Rhapsody, a free Ableton Live Pack featuring the sounds of the Rhapsody 490 polyphonic analog string synthesizer by Elka.
The Rhapsody 490 comes with just three sounds (Violoncello, Strings and a combination of these two sounds) characterized by a fixed distinctive chorus effect. But the unit used for this library has been equipped with a switch that allows to activate/deactivate the chorus, definitely a very useful hack!

Rhapsody is a multi-sample Live Pack based on 6 recordings created by sampling the three sounds with and without the chorus effect. Rhapsody delivers 21 Live Presets (with useful macro controls) each of which consists of 49 perfectly-looped samples (each note of the 4-octave keyboard).
Rhapsody features
220 MB content, 24 Bits/44.1 Khz.
6 Multi-sample Recordings (294 samples).
One sample per note (4 octaves).
Perfect loop-points (no crossfading).
21 Live Presets.
15 Sampler/Simpler devices.
The Rhapsody pack is a free download for registered Cluster Sound users (requires Ableton Live 9/Suite 9).
More information: Cluster Sound