Coincidental Music has announced its Prism Stick and Happy Hour soundsets for the Applied Acoustics Systems Chromaphone and Lounge Lizard EP-3 software synthesizer instruments.
It's been somewhat delayed, but at last Prism Sticks for Chromaphone is here.

In the end, as the patch count headed up way beyond the 200 mark, I thought I would end up with two patchbanks. However, I've whittled it down considerably and I hope you find the patches useful, inspiring and fun.
Prism Sticks features
125 patches: 10 Bells & Chimes, 23 Keys, 19 Pads, 10 Percussive Atmospheres, 13 Percussive Hits, 11 Plucks & Strings, 18 Soundscapes & FX, 13 Synthetic and 8 Wind.
Note: Only for use with AAS Chromaphone not with AAS Player.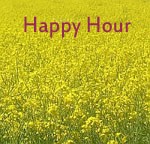 The Happy Hour: Exotic Cocktails soundset features 100 patches for the Lounge Lizard EP-3 virtual electric piano instrument.
I love electric pianos of all shapes and sizes. Even cheap ones can make me smile. And, while there are some really great sampled Rhodes and Wurlis out there, there's something about Lounge Lizard that I find makes it much more fun to play. I think it's because the slight variability in the sound makes you listen closer to what you're playing, then react and adjust, in a way you wouldn't do with a more regular and predictable instrument.

As I started tweaking it, I realised that there were quite a few avenues one could go down, far removed from its original purpose. Which led me to Happy Hour!
Happy Hour features
100 patches: 10 Chimes, 10 Drums & Perc, 14 FX, 11 Keys (Rhodes), 16 Keys (Specials), 5 Keys (Wurli), 12 Organs, 8 Stringed, 14 Synths.
Note: Only for use with the full version of AAS Lounge Lizard EP-3 Electric Piano, not with Lounge Lizard Session.
Prism Sticks is available to purchase for £12 GBP; Happy Hour is £7.50 GBP. Future updates (including additional patches) are included in both sets.
More information: Coincidental Music