Crafted Sound has announced the release of the Ableton Push integration pack for Arturia's V Collection 6, a bundle of virtual keyboard instruments.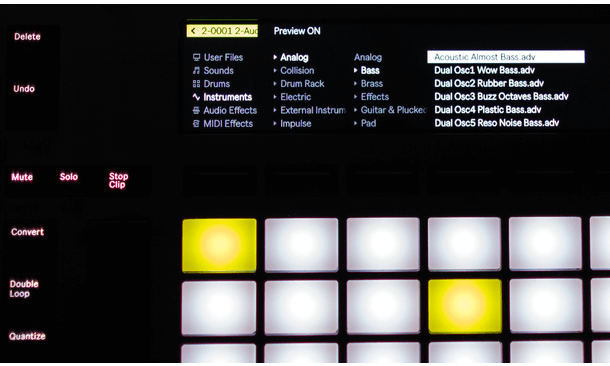 The latest pack from Mabelton allows you to browse, load and fully control all 12,000+ presets of the 21 Arturia synthesizers from within Ableton Push 1 or 2, in the same way as Ableton's built-in instruments.
Includes over 12,000 fully configured racks which allow you to browse, load and control the 21 synths from Ableton Push 1 and Push 2, benefitting from all Push functionality, including step sequencing.

Includes packs for all the synths from Arturia V Collection 6: Analog Lab 3, Synclavier V,Buchla Easel V, Clavinet V, CMI V, DX7 V, B-3 V, Mini V, Piano V2, Stage-73 V, Matrix-12 V, Farfisa V, Solina V, SEM V, Wurli V, Jup-8 V, ARP 2600 V, CS-80 V, Prophet V, VOX Continental V, and Modular V
An upgrade pack is also available for those who already have our V collection 5 pack; this contains packs for the 7 new or adapted synths only.
The Arturia V Collection 6 integration pack costs £28.99 GBP; the upgrade from the V Collection 5 integration pack is £19.99 GBP. Prices ex. VAT for EU customers.
Also released is the Push integration pack for Serum, the popular wavetable synthesizer from Xfer Records.
This is the instant way to use the Xfer Records Serum VST Plug In properly from inside Ableton Push. Quickly integrate Ableton's Push and the Xfer Records Serum VST Plug In
Xfer Records Serum Pack features
Find Serum and its factory presets inside your Push menu.
Browse through the 450+ named factory presets from Push's screen in their categories.
Load up any of the presets from Push.
Control the knobs and sliders on Serum using Push's encoders (and record your tweaks using Ableton's automation function).
Unlock Push's step sequencer, in key and exotic scales functions for all the Serum presets.
The Serum pack is available for £5.99 GBP (ex. VAT for EU customers).
More information: Crafted Sound