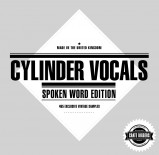 Sounds To Sample has released Cylinder Vocals – Spoken Word, a sample pack by Crate Diggers.
Exclusively to Sounds to Sample, brand new label Crate Diggers unearth a hoard of sonic treasures with their debut release, Cylinder Vocals – the Spoken Word edition, featuring 450+ original, royalty-free spoken word clips sourced from over 5,000 rare cylinder recordings from the early 1900s.

Pre tape, pre vinyl, and pre gramophone, cylinders were the original recording medium created by Thomas Edison. This collection features a unique selection of dialogues that will find fans among producers in need of authentic vinyl-inspired vox, irrespective of genre. 465 clips are offered in total, broken down into folders such as City Life, Love and Women, Money, Movement, Music, Questions, Statements, Technology and many more.
Cylinder Vocals – Spoken Word is available to purchase for 18.49 EUR.
25% of each purchase goes directly to the UC Santa Barbara Cylinder Preservation and Digitization Project for further acquisitions and preservation of cylinder recordings.