Plugin Alliance has announced the release of the Wedge Force Matcha virtual guitar synthesizer instrument designed for keyboard players and MIDI users.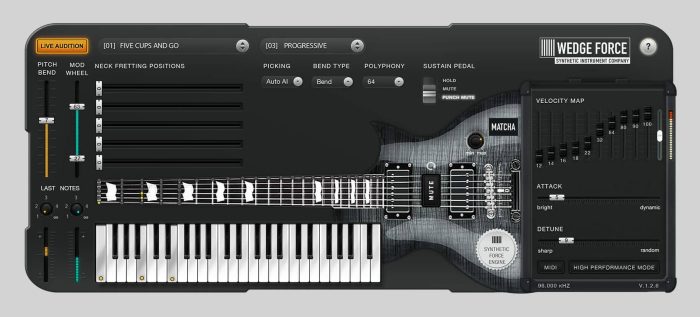 Matcha is an authentic-sounding guitar synth that allows you to create powerful and realistic guitar tones.
Matcha is a unique and innovative musical instrument that allows keyboarders and MIDI artists to create powerful rock guitar tones that sound as realistic as any you've ever heard. In fact, it is so realistic that we encourage you to double your MIDI guitar parts, just like you would do when you record real guitar riffs!

Matcha is more than just a shockingly authentic-sounding guitar synth with powerful onboard tonal-shaping options though. It's a professional musical instrument ready to be REAMPED into your favorite guitar amps. It replaces the guitar in a recording setup, but not the amps and FX! Pair Matcha with ANY of your favorite pedals, amps, cabs, and FX to get amazing tones, playable from your MIDI keyboard.

Having this potential for massive sounds at your fingertips opens new horizons for keyboard players and composers to enter the world of guitar sounds and effects. And guitarists will enjoy to experiment, combining real guitars and MIDI generated riffs and licks.
Matcha features
Pinch Harmonics: Blend pinch-harmonics into the main tone using the MOD wheel controller of your keyboard to make your riffs cooler, and your solos scream.
Palm Muting: Create palm-muted sounds by holding the sustain pedal of your MIDI keyboard for that always cool "Dzj Dzj" Metal sound.
Neck Position Mapping: On a real guitar, every note is available on multiple different frets on the guitar's neck, and they all sound different. This is why Matcha adds the option to choose the proper neck mapping across all six strings for your preferences.
Pick Hand Behavior: Matcha uses AI to predict the correct picking direction (up or down) based on the tempo of playing, neck position, and velocity of the previously played notes to select different samples for dynamic and realistic sounds.
Real-Time Note Detune: A randomized detune option gives your tone more realism and dynamics within the selected range of cents. The authentic timbre is preserved by the algorithms during pitch bend, slide, mute, and detune operations.
Attack and Velocity Control: Gives you control over the attack of your notes, and the velocity mapping depending on your playing style.
The Wedge Force Matcha synth is on sale for the intro price of $149.99 USD for a limited time (regular $199.99 USD). The plugin is included in the Musician and Mega Bundle at no extra cost.
More information: Plugin Alliance