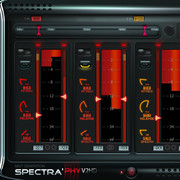 Crysonic has released version 2.3 of SpectraPhy V2HD, a dynamics effect plug-in for Windows and Mac.
SpectrtaPhyV2HD is the second generation Mastering grade look-ahead brickwall audio limiter / maximizer and is now also a full Multi-Band processor as well as the only audio plug-in to utilize the principals of mechanical physics for Audio processing. SpectraPhy V2HD breaks new ground in Audio processing for quality and easy of use to achieving exceptional professional results for Mastering, Mixing, Tracking and all Audio/ Music Production.
Changes in SpectraPhy V2HD v2.3
Second Generation Physics based Peak Limiting and Audio Dynamics Maximization.
Transparent Multi-Band Auto summing processor.
Individual Gain Threshold adjustment of L/R channels for all Bands.
Kalman Filter Based smoothing of peak transients.
Linear or Exponential modes for imparting analog warmth.
Cross-Over filter frequency selection component.
Gorgeous and easy to follow User Interface.
Look-ahead Brickwall limiting Algorithm with no overshoots.
SpectraPhy V2HD is available to purchase at the introductory price of $58 USD (60% off) for a short period, MSRP $144 USD. All previous Crysonic customers are eligible to purchase for $29.95 USD by sending Crysonic an e-mail with their details.