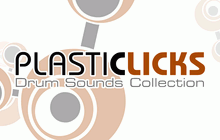 D16 Group has announced the release of Plasticlicks, a sample library featuring over 1,500 totally fresh, ready-to-use drum sounds.
All the sounds in this collection have been designed completely from scratch with the goal of creating something truly unique in the world of electronic drums. Not a single preexisting sample has been used during the creation of these sounds: they're all completely original, built from the ground up—a full spectrum of carefully designed drum sounds.

Get it now and you'll see how rich and evocative synthetic drums truly can be when done right! Within this library you'll find surgically precise sounds that will cut through your mix like a hot knife through butter. You'll find short, aggressive percussion sounds and longer, metallic stabs; expressive and clean kicks, sometimes grimed with unusual hums. From entirely and purposefully synthetic timbres to almost acoustic-sounding drums, you'll find it all here!
Plasticlicks features
1,611 different drum sounds created by sound designer Simplicius Simplicissimus.
Sounds: Claps (39 patches), Closed Hihats (298 patches), Cowbells (19 patches), FX Hihats (99 patches), Hits (60 patches), Kicks (300 patches), Metal Percussion (16 patches), Mini Percussion (20 patches), Open Hihats (227 patches), Percussion (74 patches), SFX (33 patches), Shakers (40 patches), Snare Drum Substitutes (51 patches), Snare Drums (216 patches), Synthetic Percussion (109 patches), Tambourines (10 patches).
Available in wav and SoundFont formats:

Wave files (sampled at 44100 kHz, 24 bits of resolution) + .akp files (Akai S5000/S6000 programs). Each .akp covers four different wave files sampled at one of four different velocity levels.
Sound Font 2 (sampled at 44100 kHz, 24 bits of resolution). Each sound font contains sampled sounds at four different velocity levels.
Plasticlicks is available to purchase for 69 EUR. A free demo sample pack can be downloaded from the product page.
More information: D16 Group