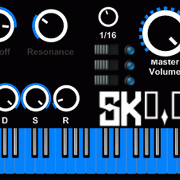 Dan Weatherall aka Dan303 has released SK0.0, a free synthesizer instrument for Windows.
A few years back I tried my hand at making my own custom VST instrument using Synthmaker. The result was this this noisy little synth 'SK0.0'.

I used the SK0.0 in a few SKatterBrain tracks (which is what it was originally made for) but that's about it.
I recently found the .dll file on my old hardrive but I'm not sure that I still have the actual Synthmaker project file. I posted a picture of it on Twitter and a few people asked my why I never got around to putting it online. I also recently got an email asking if it was possible to be shared so I thought I may as well put it on the website as a free download.
SK0.0 for Windows is available to download from Dan's blog at no cost.
Visit Dan303 for more information.