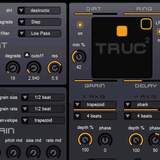 de la Mancha has announced the release of truc 2, a modulated multi-effect plug-in co-developed with sink.
truc2 is a multi-effect plug-in with 4 different effect modules and two automated XY pads to modulate their levels and parameters. It is designed to add variation and movement, anywhere along the scale of subtle to overkill and is suitable for any material

The 4 effect modules are DIRT, GRAIN, RING and DELAY. The first XY pad modulates the volume/mix level of each module, whilst the second XY pad modulates any 4 of the 15 automatable parameters. Both XY pads can be moved manually and additionally automated with a variety of LFO shapes, speeds and depths
Changes in truc 2
Correct real-time rendering of all XY modulations.
Enhanced XY pad LFO modulation options.
XY pucks can be dragged whilst being modulated by LFO.
Graphical representation of modulations on XY pads and parameter knobs.
More dirt options.
More ring mod / pan / vol mod options.
Completely new GUI.
truc 2 (including bonus plug-in truc2 mini) is available to purchase as a VST effect plug-in for Windows PC, priced at $24 USD.
More information: de la Mancha / truc 2