Plugin Boutique has launched a sale on the 2016 Stereo Room, a plugin that offers natural and distinctive sounding room reverb.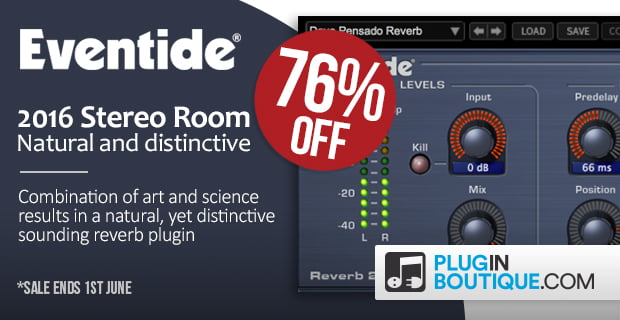 The 2016 Stereo Room reverb plug-in was crafted to simulate a great sounding 'room'. Delay lengths, reflections, and other properties of the virtual room were carefully considered in the modeling. This combination of art and science results in a natural, yet distinctive sounding reverb. The simple intuitive controls allow you to fine tune the perfect space for your sound – whether it's a dark hallway or a bright studio vocal room.

Originally found on the SP2016 rackmount, which has been used on hit records for decades, the 2016 Stereo Room plug-in features hand crafted artist presets from Joe Chiccarelli, George Massenburg, and Dave Pensado. Capable of both lush and subtle sounds, it's also easy on your CPU. Use multiple instances to bring out the character of different parts of a track – 20 instances in one session? Go for it!
2016 Stereo Room (VST/AU/AAX) is on sale until June 1st.
More information: Plugin Boutique / Eventide 2016 Stereo Room