Plugin Boutique has launched a limited time sale on AIR Music Technology, offering 80% off the Xpand!2 workstation instrument.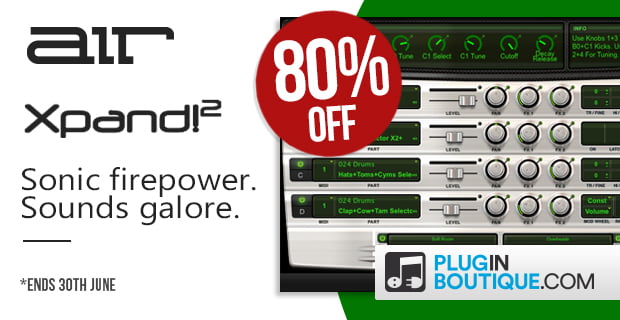 Xpand!2 is a multitimbral workstation offering four active sound slots, or parts, per patch. Each part is provided with its own MIDI channel, Note Range (Zone), Mix, Arpeggiation, Modulation, and Effects settings—an excellent method for creating individual parts.

Harnessing the four parts together to build one amazing Patch is where Xpand!2 reveals its true power. The Voice Mode for each part can be set to polyphonic or monophonic. Polyphonic parts can have up to 64 voices; monophonic parts offer First, Last, Highest, or Lowest priority making it easy to designate a bass, lead, or solo instrument.
Xpand!2 (VST/AU) is available for just £9 GBP.
You can also save 60% off other AIR Music Technology products during the sale.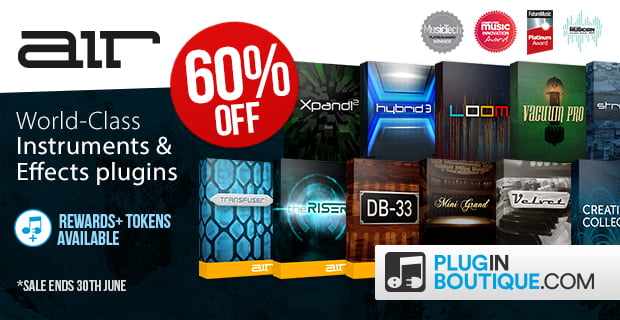 Save 60% off the awesome collection of synths, virtual instruments, expansions, bundles & upgrades at Plugin Boutique.
This includes the AIR Instrument Expansion Pack 3 Complete Upgrade, AIR Music Synth Bundle (+ Free Vacuum Pro Expansion), Hybrid 3, and The Riser (+ Free Flux Transitions Expansion Pack).
The sale ends July 1st, 2017.
More information: Plugin Boutique / AIR Music Technology