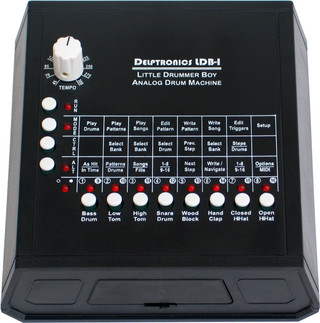 Delptronics has announced the release of its LDB-1 analog drum machine.
The LDB-1 "Little Drummer Boy" is a modern recreation of the classic analog drum machines of the 80's, like the Roland TR-606 and TR-808.

Our goal was to recreate the warm sounds of the classics, using all analog circuitry – not samples. The brain of the LDB-1 is a powerful digital microcontroller that triggers the analog drum sounds and provides the sequencer, programmability and connectivity features.

Easily interfaces with other instruments, synthesizers, DAWs, etc. through analog connections, MIDI, and DINsync.
LDB-1 features
Eight Analog Drum Sounds: Bass Drum, Low Tom, High Tom, Snare Drum, Wood Block, Hand Clap, Closed Hi-hat, Open Hi-hat
Eight voice polyphony. All drums can be played simultaneously, including open and closed hi-hat for a super punchy cymbal
Play Modes

Play Individual Drums.
Play Patterns, including chaining up to 8 patterns.
Play Songs with Pattern Fills.

Programmability

32 User Patterns – plus 32 Built-in Patterns.
16 Songs of 24 patterns each.
Configuration Options (MIDI channel, trigger modes, etc).
All data is retained without power.

Connectivity

Powered by built-in 9V battery, or standard pedal power supply.
MIDI Input for playing individual drums, and MIDI clock and start/stop messages.
DIN Sync Input for both clock and gate (start/stop).
Analog Clock Input.
Analog Gate (start/stop) Input.
Analog Trigger Output on selected steps and/or instruments.
The LDB-1 is available to purchase for $240 USD. A DIY kit (circuit board and all parts) is $140 USD. A Eurorack module (LDBe-1) is coming soon, priced $180 USD.
More information: Delptronics / LDB-1