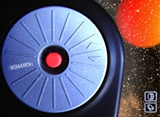 DETUNIZED.COM has released DTS008 – The Casiopeia Synthesizer, a new sound library for Ableton Live featuring the Casio Rapman.
Do you know the RAPMAN? A little plastic toy with some plastic 80ies drumloops, some basic plastic standard sounds and a plastic disc for basic standard scratching. Pretty boring at the first glance.

So please DO NOT listen to the audio samples! Otherwise it may happen that you don´t agree.
DTS008 – The Casiopeia Synthesizer features
Instruments: 2 (Synthesizer, Drum Box).
Oscillators: 23×2 (Velosens + Blend2FX).
Noise Modules: 5 (selectable waveforms).
22 original Beat Loops.
Keyrange: full (C-2 to G8).
No. of samples: 534 (24 Bit, 44,1 kHz).
Disk space needed: approx. 125 MB.
Installation instruction included.
DTS008 – The Casiopeia Synthesizer is available as an instant download for 6.98 EUR. Subscribers pay 4.98 EUR.
More information: DETUNIZED.COM