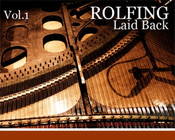 DETUNIZED.COM has released DTS009 – ROLFING Laid Back Vol.1, a sample library for Ableton Live.
A really rotten upright piano, totally out of tune, with all the keys disappeared. But the chassis was still complete and made such a fantastic reverb, it seemed to be everlasting. Slapping the lowest string it took almost three minutes until the sound had gone.

After a 40 hour recording session we ended up with so much material that we decided to split this release in several pieces.

With Volume 1 you get the original piano sound picked up at two distances plus five other sound sets using different prepared piano techniques.
ROLFING Laid Back Vol.1 features
Instruments: 7 (5 pianos, 1 percussion unit, 1 cluster box).
Keyrange: C-1 to G7 (chromatic).
No. of samples: 386 (24 Bit, 44,1 kHz).
Disk space needed: 665 MB.
Installation instruction included.
DTS009 – ROLFING Laid Back Vol.1 is available to download as an instant download for 6.98 EUR. Detunized subscribers pay 4.98 EUR.
More information: DETUNIZED.COM