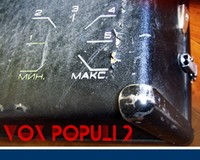 Detunized has announced its Vox Populi 2 Live Pack, the second installment of a series of exciting sounds from the Russian Polivoks synthesizer.
The Pack contains a comprehensive collection of genuine analog synth sounds that feature the rough and crude character of this crown of Soviet synthesizer egineering.
Made of nearly 650 samples Vox Populi 2 forms a colorfull sound palette of 46 presets that are encapsulated into Live´s Rack architecture.
Be it the "Bolschoi Synth", the "Tupolew Pad", the "Vox Populi Piano" or even one of the included Drum Synths – each single Rack follows a standardized Macro Control layout that makes it easy to instantly familiarize with the sonic possibilities of this Live Pack.
Vox Populi 2 features
46 instruments, 644 samples (24bit/44.1kHz).
260 MB content.
Format: Ableton Live Pack (PC/Mac, Live 8.3).
Vox Populi 2 is available to purchase for 9 EUR.
More information: Detunized / Vox Populi 2