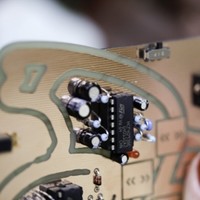 Dirty Electronics has introduced the Mute Synth, a hand-held touch and tilt instrument with copper etched artwork and contoured printed circuit board that wasb designed in collaboration with Mute and graphic designer Adrian Shaughnessy.
The instrument brings together many Dirty Electronics aesthetics and instrument designs into one device in particular creating an instrument 'of the hand' (in terms of both playing and building), a noise-based device that utilises feedback, and exploring the relationship between artwork and circuit board.

It combines sound synthesis with a sequencer/pulser, and it is 'knobless'. The Mute Synth is controlled by using the conductivity of the human body to complete the instrument's circuit when the copper etching is touched. There are touch 'points' on both sides of the circuit board, and the instrument is designed to be played with thumbs and fingers. Two tilt switches on different planes allow for gestural control of the sequencer. Pulsating brilliant white noise and grunge in the hand!
Mute Synth features
Copper etched PCB artwork.
Touch and tilt control.
Two oscillators.
Feedback network.
Distortion.
Filter.
Sequencer.
Contoured shape.
Battery powered – coin cell included (CR2032).
Requires amplification.
Jack output.
The Mute Synth is available to pre-order for £60 GBP. Shipping is scheduled for November 13, 2011.
More information: Mute Synth