discoDSP has announced the release of Bliss, a next generation sampler with VST plug-in sampling for Windows, Mac & Linux.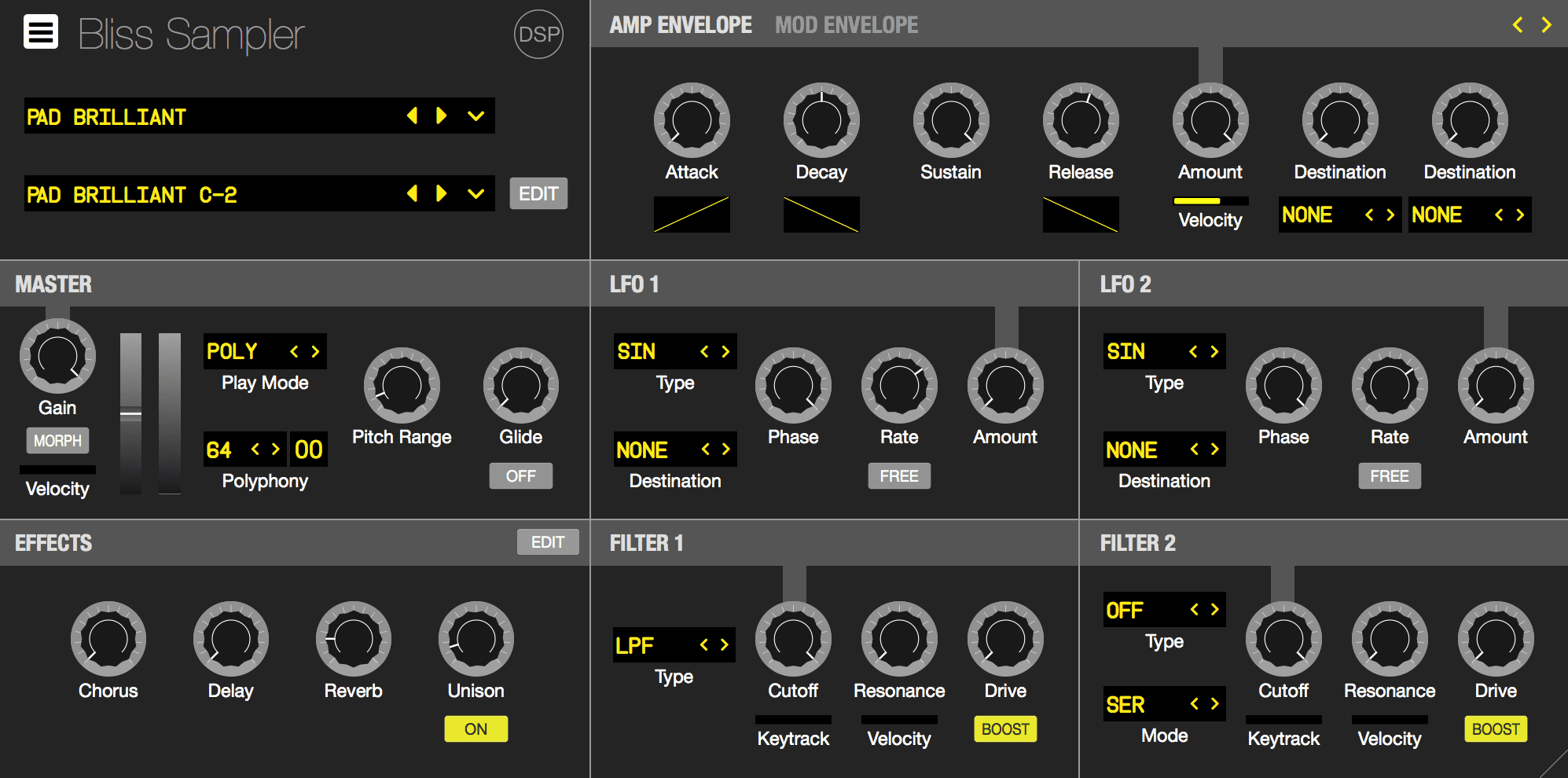 Welcome to Bliss, our next generation sampler! It's currently in Beta, so we're offering a 50% price discount until it finishes.
Demo version has some features disabled like sample exporting and purchasing is required to enable those.
Bliss features
32 / 64­-bit VSTi / Audio Units compatibility.
Built­-in VST host / VSTi sampling (freezing). Record your favourite VST without any sound quality loss!
Built­-in wave editor.
Scalable and themeable GUI.
Morphable scheme / automatable zone parameters.
128 Programs with unlimited zones.
32­-bit floating point based wavetables.
Full MIDI Input triggering control.
Playback engine

Up to 64 voices polyphony (multilayered zone sampling engine).
Oversampling voice generation: up to 4X oversample factor.
Selectable interpolation engines: up to 512 points SINC interpolation.
Full mono / poly / legato operation.
Glide w/ auto­switch control.
4 voices Unison with detuning.

Filters

Dual Zero­-Delay Feedback filters.
24dB / Oct filter modes: Lowpass / Hipass / Bandpass 1 / Bandpass 2 / Notch / Peaking / Disabled. Stepping­ free Cutoff / Resonance and Drive parameters.
Velocity and Keyboard tracking to Cutoff parameter.

Modulation

8 assignable Macro knobs.
Independent envelope amplitude / modulation envelope / LFO and filter settings.
2 syncable LFO with configurable Phase.
Stepping ­free modulation sends / pitch bend / modulation to morphing wheels.
ADSR amplitude envelope.
ADSR envelope filter / pitch assignable (both bipolar).

Effects

Wow effect: Rock Da Disco.
Soft clipper to tame the output.
Stereo rotation effect.
High quality chorus / delay / reverb.
Selectable Pre Post Effects: Bit reducer, Phaser, Distortion.
Chorus / Delay / Reverb sends per zone.

Sample Editor

Built-­in wave editor with full undo history.
Zoom up to 1:1 resolution.
Independent Left – Right – Stereo selections.
7 Loop types (one shoot / forward / bidirectional / backward / forward w/sustain / crossfade / static).
Clipboard: Cut / copy / paste / mix paste / sample / trim.
Amplitude: Fade in / out / normalization / mute / insert silence.
Effects: Reverse / Invert polarity / Swap channels / Remove DC.
Cues / Loop edit / Auto­slice to tempo / transients.
Automatable zone parameters / cue / loop points.
Automatable start / end / loop points.

Import formats

Auto / drum mapping when multiple files are opened at once.
Internal new program/bank formats with lossless encoding.
LUA scripting engine for program loading: add new file formats easily.
Samples: .FLAC / .WAV / .MP3 / .RAW / .OGG.
Programs: .AKP (AKAI S5000-S6000) / .SFZ / .DLS / .SF2 (SoundFont2) / .XRNI (Renoise Instruments)

Export formats

Programs: .SFZ / ZBP programs and ZBB banks (24-bit lossless FLAC) / Encrypted ZBP and ZBB for 3rd party soundware.
Samples: 16-­bit WAV.
Bliss is available for purchase for 44.50 EUR / $49.50 USD while in public beta (regular 89 EUR / $99 USD).