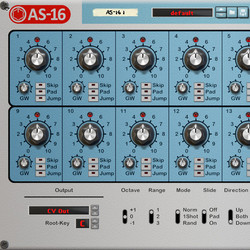 DLD Technology has released AS-16, an analog sequencer Rack Extension for Propellerhead Reason.
AS-16 is an advanced 16 channel analog CV sequencer with MIDI and audio features. At the heart of AS-16 is a user controlled sequence that can be modified in real time using the jump, skip and pad buttons.

In addition, it includes several note scales that allow you to quickly create bass lines and then tweak via MIDI, or use the built-in audio modifiers as an advanced envelope generator.

Multiple devices can be chained together for unlimited channels, and each channel has separate outputs for advanced CV routing.
AS-16 features
16 CV channels with separate CV outputs.
Skip, Jump and Pad features for each channel.
Unipolar, Bipolar and Note output modes.
Common musical scales, with selectable root note via UI or MIDI.
Octave and range controls when in Note mode.
Normal, One Shot and Random modes.
Selectable slide.
Pattern reverse and bounce modes.
Synchronise with sequencer, external clock or free run.
Swing control.
Audio envelope and chopping facility.
CV add and multiply.
Chaining of devices for unlimited channels.
The AS-16 Rack Extension is available from the Propellerhead Shop for the introductory price of 25 EUR / $29 USD.
More information: DLD Technology / AS-16