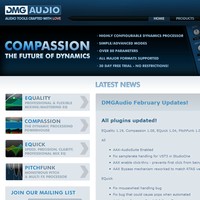 DMG Audio has updated the EQuality, Compassion, EQuick and PitchFunk effect plug-ins for Windows and Mac.
Changes in DMG Audio plug-ins
All

AAX-AudioSuite Enabled.
Fix samplerate handling for VST3 in StudioOne.
AAX enable click-thru – prevents first click from being absorbed when UI is opened.
AAX Bypass mechanism reworked to match RTAS version.

EQuick v1.04

Fix mousewheel handling bug.
Fix bug that could cause pops when automated.
Added preference: Band-Q follows Zoom.
Added preference: Configure right-click as Invert/Bypass/None.
Tidy up automation handling.
Improve mousewheel and autolisten.
Added preference: Sticky selection, to retain selected bands, rather than allow dragging.
Added preference: Control+Mousewheel behaviour (adjust gain/freq).
Added preference: Larger EQ band dots.
Reduce CPU usage when automated in Reaper.

PitchFunk v1.04

Fix "glitching" DSP bug.
Fix delay times for samplerates other than 44k1.

Compassion v1.08
The updated plug-ins are available to download at DMG Audio.
More information: DMG Audio