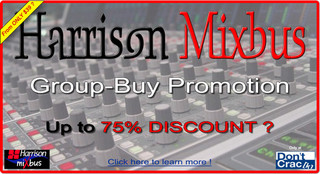 Don'tCrac[k] has announced the Harrison Mixbus Group-Buy, a chance to save up to 75% off the full-featured Digital Audio Workstation (DAW) with "True Analog Mixing"™: A combination of Harrison's world-renowned sound and features in an affordable, knob-per-function interface.
If you haven't had the pleasure to mix on a Harrison console, well here's one great opportunity to buy one from ONLY $39 !

From today through January 26th, we are organising the first Harrison Mixbus Group-Buy ever !

The goal is to reach up to 75% Discount on ANY Harrison Mixbus products or bundles.
More information: Don'tCrac[k] / Harrison Mixbus Group-Buy