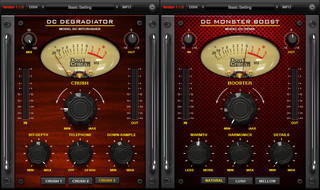 DontCrac[k] has updated the V.I.P. Series Plug-ins of effect plug-ins for Windows and Mac.
Version 1.1 is a free upgrade to all V.I.P. Bundle owners and adds two new plug-ins to the collection for a total of 22 plug-ins at this time.
Changes in V.I.P. Plug-in Series v1.1.1
Fixed: Authorization problem on PC machines. (Mac and PC needs to be re-authorized) [v1.1.0]
Fixed: RTAS wasn't loading correctly on some PC machines. [v1.1.0]
Fixed: DC-TransControl DSP wasn't processing correctly. [v1.1.0]
Fixed: DC-Chorus Ensemble Factory Presets were corrupted. [v1.1.0]
Fixed: DC-Classic Phaser 'Cirtacular' preset 'Freq Range' caused GUI knob to disappear. [v1.1.0]
Fixed: DC-Digital Reverb 'Decay Time' knob wasn't working correctly. [v1.1.0]
Changed: DC-Retro Compressor output level was louder of 1.16dB, output level is now at 0dB when threshold at 0. [v1.1.0]
Added: Two new plug-Ins (included in the V.I.P. Bundle as a free upgrade): [v1.1.0]

DC-Degradiator

– Bit Crusher Style Plug-in

DC-Monster Boost

– Colored Signal Booster Plug-in

Fixed: Demo version wasn't processing audio under certain circumstances.
Fixed: Non accessible Presets on Mac.
Fixed: Windows XP installer issue.
Fixed: DC-EchoFlex presets was saved into 'EchoPlex' folder instead of 'EchoFlex'.
Note: The V.I.P Plug-ins version 1.1.0 requires a re-authorization. Simply launch the authorizer application (from any DC Plug-in) and use the serial number you received to re-authorize the software.
More information: DontCrac[k] / V.I.P. Plug-in Series