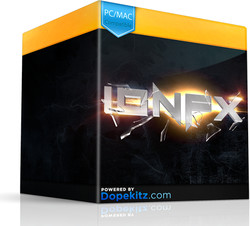 DopeKitz has released ionFX, a virtual instrument plug-in for sound fx.
Designed in house from the ground up IONfx is An all new Virtual Software Instrument from DopeKitz that features a collection of perfectly mixed and EQ'd Ramp Up Elements commonly referred as "Rizes", Ramp Down or "Dive and Drone" Sounds as well as & Transitional Elements, and SFX patches. To take your tracks to the next level.

These sounds definitely Add more flavor to your tracks! Includes a huge assortment of Transition Elements, Ramp up/Rizes, Dive/Drones and Sound Effects. This is A must have VST Plugin.

In addition to the hefty library of customizable instruments included with IONfx, IONfx is Easily expandable and future proof. IONfx supports expansion packs to add even more diversity and freshness to your production library so you never have to worry about sounding outdated as your sound evolves or as your music changes.
The plug-in is available for Windows and Mac (VST/AU), priced at $64.99 USD.