Plugin Boutique has an exclusive sale on DopeSONIX LoFi, the plugin that comes with over 200 dirty, atmospheric instruments.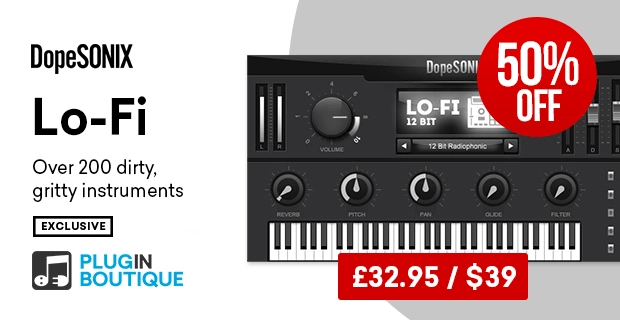 When we first started the process of making LoFi we asked ourselves one question. Why has no one really made a VST instrument dedicated to this type of sound before? Sure, there are plenty of fantastic VST's with plenty of amazing presets but in reality, you would have to dig through thousands of shiny EDM orientated patches to find the obscure gritty gems. If you looking to create Old School Hip Hop, Chill Hop, Movie Soundtrack, Ambient and Electronica or just need to add some warmth and atmosphere to any track that sounds just too digital, then LoFi is the perfect choice.

With LoFi we have decided to create an easy to use yet versatile plug-in that will enable you to achieve a similar sort of sound influenced by artists ranging from Boards of Canada and Burial to Clams Casino and Brian Eno. You will find over 200 dirty, atmospheric and sometimes beautiful instruments all lovingly mangled, re-sampled and processed through an MPC60 MKII, a Fostex M80 Reel to Reel and various analog outboard effects to nail that cool LoFi vibe.
The LoFi plugin is on sale for £29.95 GBP / $39 USD until November 2nd, 2020. It comes in VST and AU formats for Windows and Mac.
More information: DopeSONIX