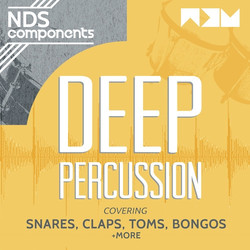 No Dough Samples has launched Deep Percussion, a new NDS Components series sample pack.
NDS Components – Deep Percussion covers a selection of the sounds that make up the backbone of any good song, from Claps & Snares to work with your Bass drum, to some of the most full bodied and warm percussion sounds around. Chocked full of novel sounding Bongos, toms, and rims, from almost natural to more hybrid sounding percussion. This pack gives you a solid selection on which to build your groove.

These have been produced to our usual high standards, sourcing the sounds from the analogue domain and working them through high end outboard gear before editing them to perfection so they sit ready in your productions.

There are two tonal variations of each sample, offering you a choice where it matters most. Capturing that 3D sound you get from the best hardware was top on our list when putting this together because that translates straight into better mixes. We spent a lot of time fine tuning this collection, you will find a lot of sounds you recognize but with a shape, air and depth about their sound you rarely hear in samples.
Deep Percussion features
262 samples (24bit/96kHz).
Includes Snares, Claps, Percussion.
2 Tonal Variations – Original & RVX.
The sample pack is available to purchase from Sounds To Sample and Beatport, priced at £8.99 GBP.
More information: Sound Factory / Deep Percussion