Drop-X by BeatSkillz is a new sampler instrument for creating fills, drops and rolls with ease.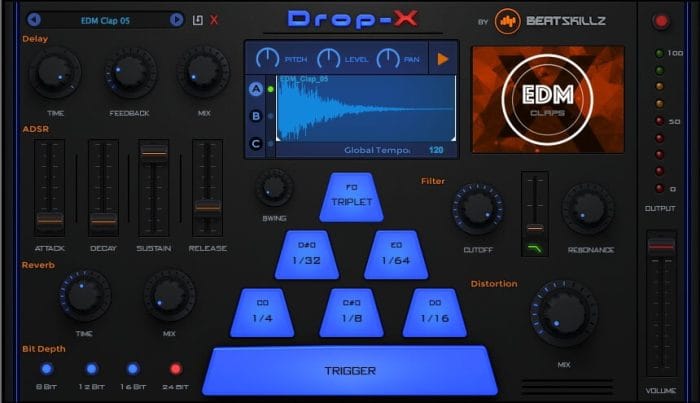 Electronic Music Producers need tools that can substantially speed up their creation process. Until now doing Fills, Drops, Turn Arounds in a track used to take a massive amount of time and work. This always slows producers down and often takes them away from the core idea that inspired them initially.

Introducing Drop-X Beat Repeat Drag & Drop Sampler!

DropX is a very easy to use Drag & Drop Sampler plugin with Beat Repeat. The plugin can contain upto 3 layers of samples which are auto-mapped by pitch as soon as they are dropped in the sample window per layer. Make Quick and Real Time Fills, Drops, Rolls on the fly. All controls are automatable and MIDI- Assignable.
Drop-X features
Keyswitch beat repeats – C0-F0 is assigned for 1/4, 1/8, 1/16, 1/32, 1/64 and triplet (dotted) beat repeats which sync to DAW Tempo. Works with any MIDI controller or computer keyboard/touch screen.
Automatic sample mapping – Any sample(s) dropped into the sample waveform window are automatically mapped from their fundamental pitch upwards and are mapped from C1 key onwards.
Sample functions – Upto 3 samples can be dragged per preset (A, B, C). Each sample has its own pitch, vol, pan controls which can be assigned to any MIDI controller and can be automated. There is also a sample reverse feature per sample layer (A, B, C).
ADSR & FX – Global ADSR envelope and FX section including controls for ADSR, reverb, delay, bit crusher and distortion. Fully automatable.
Customize presets – Drag & drop your own graphic image into the plugin and personalize your presets and samples.
10 banks of sounds included – Over 250 presets included (kicks, snares, hats, cymbals, claps, bass, synth, textures, vox & chords). More sound banks will be available soon.
Drop-X for Windows and Mac (VST/AU/AAX) is available for purchase for the introductory price of $79 USD until May 31st, 2016 (regular $119 USD).
More information: BeatSkillz / Drop-X