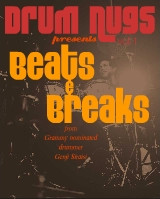 Drum Nugs has launched with Drum Nugs Vol.1 Beats & Breaks, a collection of over 600 aiff acoustic drum loops.
Genji Siraisi (Producer, composer, drummer and founding member of the Grammy nominated group Groove Collective) continues his series of live drum loop packages for the Drum Nugs collection

Drum Nugs Vol.1 Breaks & Beats is based around a series of recordings done on different kits in various venues. Vol.1 was recorded in four different cities in two countries. The Drum Nugs collection mostly fall into the acoustic breakbeat category but they range stylistically from old school breaks to Jazz, Latin, Rock and beyond. Some of the beats have been processed heavily putting them into a more modern realm and making them suitable for a wide variety of uses.

If your looking for that human drum element, to add some grit to your tracks or just some new old school breaks to play with this collection is for you.
Drum Nugs Vol.1 (631 AIFF loops) is available to purchase for the introductory price of $10 USD until 1 April, 2011 (regular $30 USD). Anyone who purchases Nugs Vol.1 will be able to purchase the first Drum Nugs Vol.2 pack "LatinTing" at 50% off.
Drum Nugs Vol.2 will be comprised of 4 packs in total, each costing $20 USD. The 1st Pack of Drum Nugs Vol.2 is "LatinTing" release date 4/1/11 – traditional rhythms as well as beats influenced by Afro Cuban, Caribbean, Brazilian and Latin Jazz/Funk grooves.
More information: Drum Nugs