Drumdrops has launched the Folk Rock Dual Kit Kontakt Player Pack, a Kontakt Player compatible pack featuring both the Vintage Folk Rock Kit and the Modern Folk Rock Kit.
This pack makes the kits completely compatible with the free Kontakt Player sampler. The instruments included are fully NKS compliant.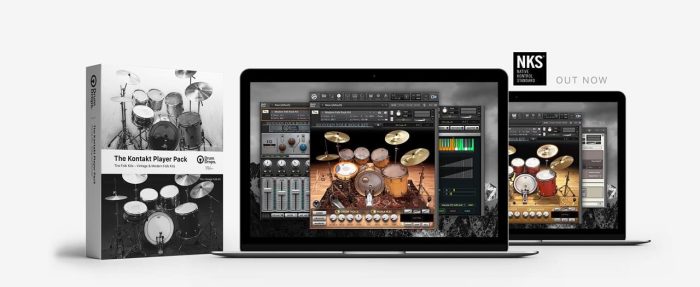 The two kits included in this pack offer both a modern folk rock sound and a 60s / 70s vintage folk rock sound. Both were recorded and mixed at Livingston studios by Phill Brown (John Martyn, Bob Marley, Rolling Stones, Talk Talk, Led Zeppelin) who learned his trade under producers such as Glyn Johns and whose in-depth knowledge of recording bands in these years helped mould the sound of the kit. The drums were sampled by Martyn Barker (Rufus Wainwright, Richard Hawley, Katherine Williams) and the kits contain a number of MIDI grooves played by Martyn. Both kits have been sampled using sticks, brushes and hotrods.

The Vintage Folk Rock Kit is a good choice for vintage, folk or indie rock tracks with a 60s / early 70s drum sound. The kit used was a vintage 1966 Ludwig Hollywood kit.

For the sound Phill Brown used his years of accumulated knowledge and went back to the time of the 60s when he was based at Olympic Studios. Phill's idea was to create a 1960s drum sound with a modern twist. Instead of positioning the microphones close to the kit he wanted to capture a natural drum sound and record the 'dead' room. He used only five microphones on the kit: one on the kick, the snare, two kit microphones placed around the kit which provide a surprisingly good stereo picture, and a mono overhead. All of the mics were recorded through API mic pre's.

This vintage 1966 Ludwig Hollywood kit consists of a 22″ x 14″ kick drum, 13″ x 9″ and 12″ x 8″ rack toms and a 16″ x 16″ floor tom. The snare used was a 1967 Ludwig14″ x 5″ snare. Cymbals used were Zildjian Constantinople 14″ hi-hats, a 20″ flat top ride, a 17″ medium thin crash and an 18″ K Custom Dark crash. The kit also includes a shaker and tambourine.

The Modern Folk Rock Kit was recorded on a Gretsch kit is a 1980s Maple 4416. Phill close mic'd this kit as a contrast to the 5 mic process used on the Vintage kit. Mics used were classic drum mics such as Shure SM57s, AKG D112's, Sennheiser MD421's and Coles 4038's as overheads. This kit was set up in the bright live room at Livingston Studio 1. All mirrors and tiles, it is said to be one of the best drum rooms left in London. Phill close mic'd the Kit in a pretty standard way and had two room mic's to give size, energy and openness.

This Gretsch kit consists of a 22″ x 16″ Kick drum, 10″ x 7″, 12″ x 9″ and 13″ x 10″ Rack Toms and a 16″ x 16″ Floor Tom. The snares used were a combination of two Ludwig Snares. A Ludwig 400 14″ x 5″ and Martyn's Ludwig Brass Shell 14″ x 6.5″. Cymbals used were Zildjian Top Rock 14″ Hi-hats, a 20″ Rock Ride, an 18″ Zildjian Paper Thin Crash and an 18″ Plain Paiste Crash. The kit also includes a shaker and tambourine.

The Dual Kit Kontakt Player Pack contains the brand new Drumdrops Kontakt Instrument in both kits. The new instrument comes with a completely new GUI and has many new features. Special focus has gone on the compatibility with E-Kits so e-kit owners can completely customise their kit to work with the instrument using the new MIDI CC data page.
The Folk Rock Dual Kit Kontakt Player Pack is available from Plugin Boutique at 20% off until April 10th, 2017.
More information: Drumdrops / Folk Rock Dual Kit Kontakt Player Pack