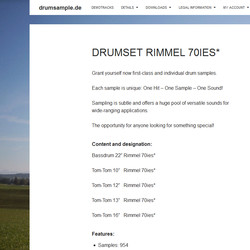 Drumsample.de has announced the launch of its online shop, offering rich sounding drumkits and breathtaking cymbal collections.
Handcrafted Samples, you can really work with.

True Vintage, Real Uniques, Special Collectibles and Simply Good Drumsamples.

raw – The actual Sound in your own context: This is guaranteed by the raw and unprocessed 32Bit-Float-Samples. The deliberate forgoing of Eq, compression and reverb allow you the unlimited and individual use of these samples without compromise.

and

real – Acoustic, pure and natural. Complete drumsets and cymbal series.

All samples are recorded by a real drummer. So nuance, articulation and mood is created in absolute perfection.
Various sampled drums and cymbals are available as single instruments, sets, or in a bundle, and some free downloads are also offered.
More information: Drumsample