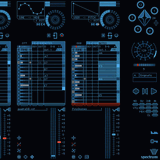 DSPaudio has released Spectrum 2, a performance sequencer (formerly Nortron) with instant control over every musical aspect of your track, providing a higher level of interaction that inspires new ways of writing and remixing your songs.
After 3000 years of hard work, the team is pleased to announce Spectrum 2! The innovative live sequencer from DSPAudio now sports a built-in synthesizer, up to 32 channels, animated envelopes, channel groups, DJ style tempo controls, new modulation targets, and more!
Spectrum 2 features
32 channels of sequencing.
128 patterns up to 16 steps long.
Elastic Envelopes that shrink and grow with note-length.
Animated Envelopes – a different waveform for each note.
Beat-match using DJ style tempo controls to push and pull the BPM.
Modulate MIDI CC, note-length, velocity, pitch, number of notes, tempo, cursor position.
Playback directions, groove templates, cross modulations, and more.
Pitch Quantize to 20 different scales.
8 assignable Groups to control multiple channels at once.
Polygnomes physical modeling synthesizer.
Note input from computer keyboard, MIDI keyboard, or Realtime Audio->MIDI.
Navigate the entire interface by mapping MIDI CC's to controls and keystrokes.
Performance modes for working live with DJs, Bands, or solo.
Channel and Global transposition controls.
Channel Delay from 0-750ms.
MIDI CC Maps/ MIDI Learn.
VST / VSTi Host.
Rewire, IAC, CoreMIDI, and CoreAUDIO are fully supported.
Full integration with Pro Tools, Logic, Cubase, Live, and other popular DAWs.
Spectrum 2 is available to purchase for Mac, priced at $199 USD. Norton 1.2 users can upgrade free of charge.
More information: DSPaudio