DSPplug has announced the release of Omega Presence, a RBJ peaking filter that takes a small dip out of the volume to perfect presence at the end of your fx chain.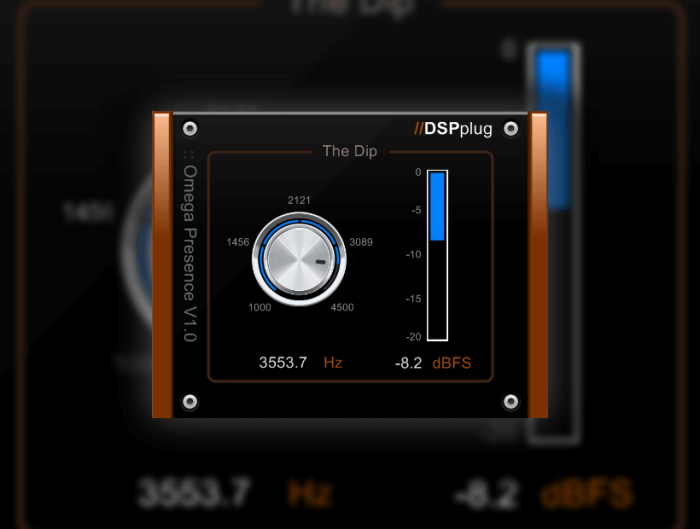 Presence is often something that's achieved with very destructive effects such as chorus, doubling and unison; and yet what the professionals will do most often is merely reduce a small amount of volume that removes the effect of audible volume changes and removes harshness, leaving the listener certain that the speaker is close to the mic and talking clearly into it.

The DSPplug presence plugin (currently available for Windows VST2, VST3 32&64) is a product that makes achieving this very simple solution possible in a no-nonsense manner, Furthermore; this effect can also be the perfect solution for automation; allowing you to make drums, vocals, movie soundtracks, sounds and just about anything you can imagine seem closer or further away just by affecting a small amount of frequency.

Due to the fact that the DSPplug presence only takes away, you will not accidently add volume, ruining your unity level after-the-fact. This means that unlike many effects which provide too much functionality for a simple task; The 'presence' will achieve a meaningful effect with no need to change your other settings in your fx chain, which wastes valuable time.
The plugin is available for purchase at a discounted price of $3.75 USD until December 31st, 2020 (regular $15 USD).
More information: DSPplug