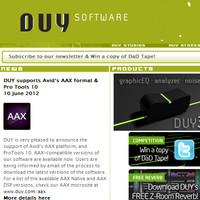 DUY has announced the support of Avid's AAX platform and ProTools 10.
AAX-compatible versions of our software are available now. Existing users are being informed by email of the links to download the software and upgrade paths where applicable.

Demo versions of all our AAX plug-ins will be available June 17th.
Visit DUY for more information.