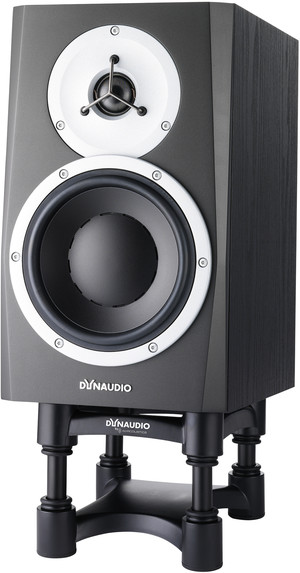 Dynaudio Professional has introduced four new near-field monitors, mounting solutions and two new precision subwoofers at the Musikmesse / ProLight+Sound 2014 show in Frankfurt.
The new near-field monitors include BM Compact mkIII, BM5 mkIII, BM6 mkIII and BM12 mkIII and on the subwoofer side, BM9S II and BM14S II.
Pursuing Perfection

Still made in Denmark, Dynaudio Professional's BM range has become a pro audio industry standard since its introduction 15 years ago. Since then, continuous improvements to this series have been made to further support discerning professionals' needs for transparent, highly responsive and non-fatiguing listening monitors. This new series is the next step in that evolution.

The smaller BM Compact mkIII and BM5 mkIII models both feature expanded frequency response and SPL thanks to a combination of improvements including drivers design and Class D amplifiers. Each includes an auto standby mode as well as both XLR and RCA input connectors for maximum flexibility. BM6 mkIII and BM12 mkIII have been revoiced and now include Dynaudio Professional's innovative wave guide that ensures utmost precision when distributing high frequencies. Both of the BMS II subwoofers have also been further optimized to compliment the new range of mkIII near-field monitors.

IsoAcoustics Stands Included

Dynaudio Professional searched for what it felt was the world's best isolation stand and chose IsoAcoustics. Each of the new BM mkIII near-field monitors comes bundled with a dual-branded IsoAcoustics monitor stand that allows the monitors to 'float' in free space. This provides an authentic and uncolored sound that is achieved by eliminating energy transfer to surrounding surfaces. The advantages are significant and apart from a tighter bass response, overall imaging is enhanced and the monitors are able to always perform to their full potential. BM Compact mkIII and BM5 mkIII come with an ISO-L8R 155 stand. BM6 mkIII and BM12 mkIII come with ISO-L8R 200 stand.

A Complete Monitoring System

Renowned for sonic consistency across the product range, Dynaudio Professional near-fields and subwoofers are designed to work together. However the company also considers the broader workflow needs of professionals. These are supported by a range of accessories spanning new mounting solutions for larger studios and broadcasters to precision level controls for the desktop – the Volume Box for BM Compact mkIII, the TC Level Pilot for BM6 mk III and BM12 mkIII and of course the TC Electronic BMC-2 Monitor Controller.

Fred Speckeen, Global Brand Manager for Dynaudio Professional concludes: "We are tremendously proud of this next step in the evolution of the Dynaudio Professional product range, a brand that has been chosen by ear by the world's most discerning studio professionals and broadcasters."
The products will be available in May (North America) / April (Europe, rest of world), for a suggested US retail price of:
BM Compact mkIII: $629.99 USD.
BM5 mkIII: $729.99 USD.
BM6 mkIII: $899.99 USD.
BM12 mkIII: $1,229.99 USD.
BM9S II: $999.99 USD.
BM14S II: $1,849.99 USD.
More information: Dynaudio Professional / BM mkIII and BMS II