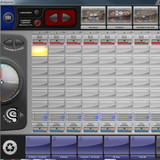 eaReckon has released version 1.2.1 of BloXpander, a music application for Windows.
This VST host has been designed to meet the requirements of musicians and sound engineers in live situations. As a serious musician, you surely need a complete DAW to record your music, but when you are in front of your audience, it may be easier to use something dedicated to live situations.
Changes in BloXpander v1.2.1
Subscenes are now callable via MIDI Program Change.
Important optimization of the whole audio engine (for both MultiCore and SingleCore modes).
More descriptive labels under MIDI learn buttons.
Calling a subscene via MIDI with the "MIDI filter/links window" visible could have make BloXpander crash in some situations.
In "MultiCore Support" mode, some plugins could have been bypassed in some situations.
BloXpander for Windows is available to purchase for 69 EUR.
More information: eaReckon / BloXpander