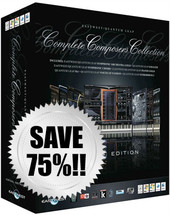 EastWest has announced a limited time offer for its Complete Composers Collection HD, a bundle of seven of its PLAY powered sound libraries.
The standard configuration of the Complete Composers Collection is available for $799 / €599.

You may customize your Complete Composers Collection and the price will change to reflect the components you choose. Components in the standard configuration are discounted at over 75% off list price.
The standard configuration includes:
Symphonic Orchestra Gold
Pianos Gold Edition
Symphonic Choirs
Goliath
StormDrum 2
Voices of Passion
Quantum Leap RA
Optionally you may customize the bundle with other EastWest titles, including Fab Four, Pianos, Gypsy, Ministry of Rock, Silk, Symphonic Orchestra Platinum, and more.
The Complete Composers Collection HD ships on a 1TB hard drive. Offer valid until March 31, 2011.
More information: EastWest Complete Composers Collection HD