EastWest Sounds has announced the release of Hollywood Orchestra Opus Edition, the highly anticipated expansion to Hollywood Orchestra, with brand new recordings, reimagined original content, and powerful new features, all housed in the new revolutionary OPUS software engine.
Also new is the companion product Hollywood Orchestrator, a time-saving tool for composers of every skill level who want to achieve that blockbuster sound in seconds.
Hollywood Orchestra Opus Edition adds over 130 gigabytes of new content, including 18 violins, 2 trombones, 2 trumpets, 3 bassoons, 3 clarinets, 3 flutes, and cross section ensembles. Transform your sound with new MOOD presets, the new stage mic position, custom articulations, individual instrument downloads, and dozens of new mixer effects. In addition, the programming of the original content from Hollywood Orchestra has been updated to take advantage of the features included in the new OPUS software engine.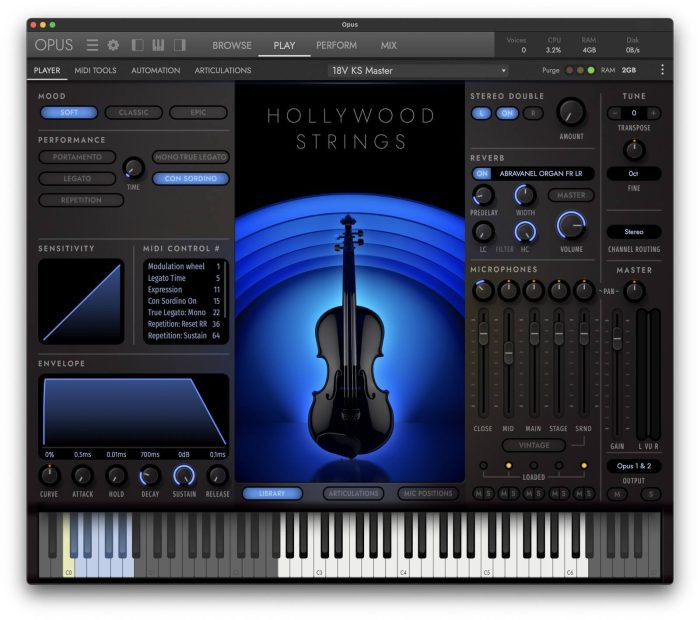 With over 500 customizable presets, Hollywood Orchestrator allows you to instantly create music in the style of Hollywood's greatest composers. Select from Ensemble presets to quickly create rich orchestral arrangements. With Ostinato presets, you can build rhythmic tension in different meters or create moving melodic lines by only changing a few notes. With Score, classic Hollywood orchestrations become an endless source of inspiration. Create your own User presets by modifying existing presets or by building your own ensembles from scratch. Hollywood Orchestrator uses all the instruments in Hollywood Orchestra Opus Edition to create realtime arrangements based on the MIDI input with EastWest's innovative Scoring Engine.
Hollywood Orchestra Opus Edition, Hollywood Orchestrator, and the new OPUS Engine are packaged together and are now available for purchase, upgrade, or through all ComposerCloud subscription plans.
Until May 20th, there is an introductory offer of $795 USD for new purchases, $495 USD for Hollywood Orchestra Diamond upgrades, and $395 USD for Hollywood Orchestra Gold upgrades. ComposerCloud Plus is available for $29.99 USD/month, ComposerCloud X is available for $19.99 USD/month, and ComposerCloud EDU X is available for just $9.99 USD/month.
EastWest Hollywood Orchestra Opus Edition is available from Sounds Online and distributor PluginFox.