EastWest has launched Hollywood Orchestral Percussion, a percussion instrument library produced by a team comprised of Doug Rogers, Nick Phoenix, Thomas Bergersen, and engineer Shawn Murphy.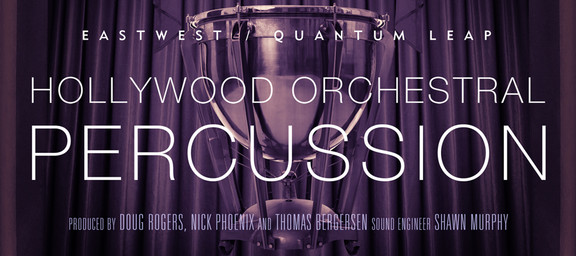 Hollywood Orchestral Percussion is a unique orchestral percussion library featuring one of America's best orchestral percussionists and his arsenal of instruments. A composition tool for serious composers, Hollywood Orchestral Percussion includes PLAY 4 software, offering powerful scripting for ease of use and up to 5 microphone positions for control over each instrument including main pickup (Decca tree), mid pickup, close pickup, surround pickup, and an alternate vintage circa 1945 RCA ribbon room pickup.

Recorded in the famous EastWest Studio 1, the home of major Hollywood soundtracks and television themes, Hollywood Orchestral Percussion perfects techniques pioneered in Stormdrum 3, using unique repetition sampling techniques and 8 way round robin that deliver a virtual live performance. The entire collection uses zero noise reduction resulting in "a sound that will virtually jump out of the speakers".
Hollywood Orchestral Percussion features
Orchestral percussion staples include timpani, snare drums, cymbals, bass drums, and metals.
Specific instruments to handle extreme tempos.
Extensive and fluid timpani.
An extensive array of epic anvil samples.
Orchestral chimes are sampled to mimic the sound of real church bells, as the instrument was originally intended.
Array of vintage field drums, such as Epic Bass Drum Ensemble and Mahler Hammer.
The celeste has been captured in a multi mic position environment with extremely low noise.
The library is available in a Diamond Edition for $799 USD (supplied on an optional hard drive), the Gold Edition is $499 USD, and the Silver Edition costs $249 USD.
Diamond and Gold Editions are available now. The Silver Edition will be available later in October.
More information: SoundsOnline / Hollywood Orchestral Percussion