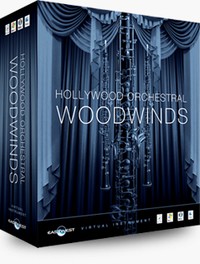 EASTWEST has announced the release of the Silver Edition of Hollywood Orchestral Woodwinds, the third installment of their acclaimed Hollywood Orchestral Virtual Instruments Series, designed for those on a budget or with less computer resources.
This downloadable version is 16-bit, comes with one mic position (mid-tree) and contains an essential set of articulations and instruments. Users can upgrade to the Gold and Diamond Edition when they need more options. The Silver Edition includes Bass Clarinet, Bassoon, Clarinet, Contrabassoon, English Horn, Flute, Oboe, Piccolo Flute.

As with the other best-selling Hollywood Collections (Strings and Brass), Hollywood Orchestral Woodwinds was produced by Doug Rogers, Nick Phoenix and Thomas Bergersen, and sound engineered in the legendary EASTWEST Studio 1 by ACADEMY AWARD, C.A.S. (Cinema Audio Society), BAFTA, and EMMY award-winning sound engineer SHAWN MURPHY, who has recorded and mixed the scores for more than 300 feature films including Indiana Jones and the Kingdom of the Crystal Skull, Star Wars: Episode II – Attack of the Clones, Star Wars: Episode III – Revenge of the Sith, Star Wars: A Musical Journey, Jurassic Park, Jurassic Park The Lost World, Harry Potter and the Prisoner of Azkaban, Titanic, Minority Report, The Bourne Ultimatum, Saving Private Ryan, Munich, The Passion Of The Christ, X-Men: The Last Stand, and Ice Age, etc.
The Hollywood Orchestral Woodwinds Silver Edition is available to purchase for $199 USD / 149 EUR.
More information: Soundsonline / Soundsonline Europe