EastWest has announced the release of the previously announced Voices of the Empire, a virtual instrument featuring vocalist Uyanga Bold.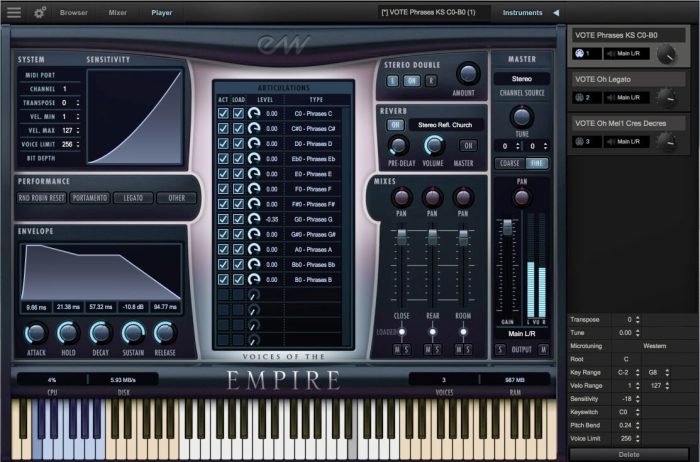 EastWest/Quantum Leap has just added another product perfect for epic film/TV/game soundtracks to their virtual instrument catalog: VOICES OF THE EMPIRE, featuring the raw, primal vocals of Uyanga Bold. Produced by Doug Rogers and Nick Phoenix, VOICES OF THE EMPIRE is the perfect companion product to the highly-anticipated blockbuster HOLLYWOOD CHOIRS.

Uyanga Bold is a unique talent, melding the ethnic musical traditions of Bulgaria, Serbia, Mongolia, and beyond. She is a trained opera singer with perfect pitch, fluent in Russian, Mongolian, French, English, and German. In VOICES OF THE EMPIRE, East meets West like you've never heard before. Uyanga's voice is beautiful, pure, otherworldly, haunting, unsettling, powerful, genuine in its ethnic flair and world class in its precision.
Voices of the Empire features
Dozens of Mongolian, Bulgarian and Western-style, multi-sampled vocal instruments.
Dozens of expressive phrases in every key.
2 unique Mongolian legato vocal instruments.
1 traditional legato vocal instrument.
Expressive vowel multi-sampled vocal instruments.
Includes PLAY 6 ($29.99 USD value).
Voices of the Empire is available for the intro price of $199 USD until April 24th (regular $299 USD). It is a free addition for all members of ComposerCloud, available starting at $24.99 USD per month.
More information: Sounds Online