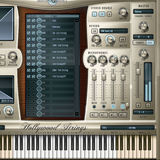 EastWest/Quantum Leap has announced the debut of its latest virtual (software) instrument, Hollywood Strings, a collection of string instruments with unprecedented control over sound and performance.
HOLLYWOOD STRINGS has many groundbreaking features not found in any other collection. Finger position is, for the first time, controllable by the user, so you can play as far up the strings as you want, and get a fuller more romantic Hollywood sound. Vibrato intensity and extensive dynamics are controllable by the user. Extensive multi-dynamic true legato has been sampled for all sections in three different categories: slurred, portamento, and bow change. This results in unsurpassed legato performance that has never been available. HOLLYWOOD STRINGS has five user-controllable mic positions, including main pickup (Decca tree), mid pickup, close pickup, surround pickup, and an alternate vintage circa 1945 RCA ribbon room pickup.
Hollywood Strings features
Articulations

Multiple finger positions for all sections including open strings
3 unique styles of legato interval sampling, including never-before-sampled bow change legato, slurred legato, and portamento sliding legato, sampled at 3, 3 and 2 dynamics respectively, all with speed control
5 dynamics of up- and down-bowed sustains
Multiple vibrato intensities
Up- and down-bowed notes
Extensive runs
Playable runs
Powerful scripting
Other articulations: Bartók pizzicato, Col legno, Detaché, Flautando, Harmonics, Marcato, Measured tremolo, On-the-string staccato, Pizzicato, Repetitions, Ricochet, Spiccato, Staccatissmo, Staccato, Sul ponticello tremolo, Tremolo, Trills (major and minor).

Instrumentation


All sections were sampled with wide extended ranges including almost 4 octaves for violins.

16 1st Violins (9/7 divisi mode)
14 2nd Violins (8/6 divisi mode)
10 Violas (6/4 divisi mode)
10 Cellos (6/4 divisi mode)
7 Basses (4/3 divisi mode)

Recording

Recorded in the famous EASTWEST STUDIOS 1
Neve 8078 mixing console
Meitner ADC converters
5 user-mixable microphone positions (use as sound options): Main – Decca tree (Neumann M50s) and Brauner VM1 KHE (Klaus Heyne Edition) outriggers, Mid – Neumann KMi, Neumann KM 254, Sony C37A, Neumann U-47, Close – AKG C12, Neumann U47, Neumann U67, Nordic Audio Labs NU-47, Surround – Neumann KM 83, Alternate Room – Vintage RCA44 Ribbon

Pricing

Diamond Edition – pre-order at $1,495 USD
All articulations and bowings; Includes five user-controllable optional mic positions; 44.1kHz 24-bit and 16-bit samples; Supplied on hard drive (List price $1,695, scheduled to ship on February 15)
Gold Edition – pre-order at $995 USD
All articulations and bowings, except divisi, bow-change legato, and sordino; Includes single mic position; 44.1kHz 16-bit samples; Supplied on dual-layer DVD (List price $1,195 USD, scheduled to ship on February 26)
Hollywood Strings will be presented at the NAMM Show on January 14, 2010, and a series of tutorials demonstrating the features of the library will then be available from the SoundsOnline website.
More information: Sounds Online / Hollywood Strings