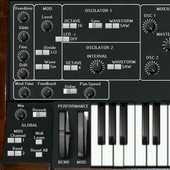 easytoolz has released Protoge, a virtual analog synthesizer instrument for Windows.
An "Emulation" of the Analog-Synthesizer called "Moog Prodigy" from 1976. Its based at the same Sound-Engine as our easy-muug XT with a different Structure: only 2 Oscilators and some smaller things but with the same analogysh fat sound, special for Leadsounds…
Protoge features
2 Oscilators with 3 Waveforms (Saw, Triangle and Square, in OSC 2 different PWM).
Tuning over 3 Octaves (32´- 16´- 8´in OSC1 and 16´- 8´- 4 OSC2).
Finetune Osc 2 – and Interval (+- 12 Notes) on OSC 2.
Mixersection (Osc 1+2).
Special Low-Pass-Filter with Cutoff, Emphasis and ADS Envelope.
2 ADS-Envelopes with Release-button (one for Filter – one for VCA-Amplifier).
Additonal to the Original-Features: Host-synchron LFO (5waves) with several targets.
Velocity – Reverb – Delay with Pan-LFO – Soft Overdrive and Analog-Drift.
100 Patches (mostly from Kujashi aka Schiffbauer).
Midi-Learn-function – 6 voice polyphony.
Protoge for Windows (VST) is available as donationware.
More information: easytoolz