MoMinstruments has released Elastic FX, a 4 channel multi-effects processor for iOS.
EFX aims to be easy and intuitive to play, while also offering complex options to shape your sound and route the audio effects stream.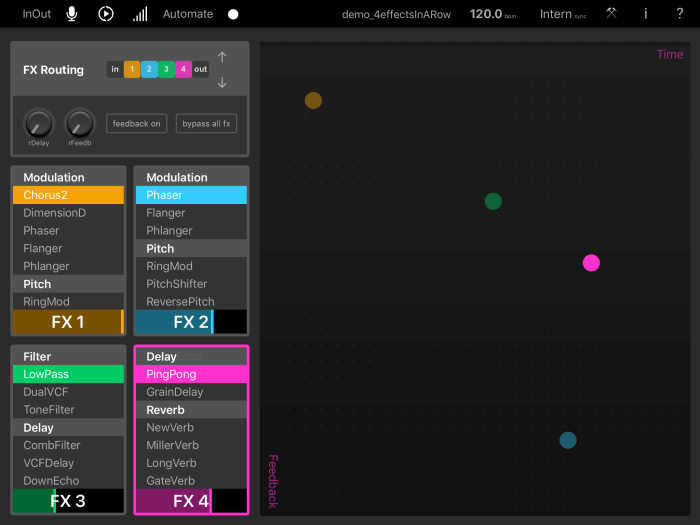 Connect EFX to an input source. You can use the device's built in microphone, an external keyboard or guitar (iPad soundcard needed), your favorite iOS drum machine (*cough* Elastic Drums), or an iOS synthesizer via Inter-App Audio or Audiobus.

Alternatively, you can import your own audiofiles and play them through up to 4 effects at once. a 4 channels multi-effect processor, that's easy and intuitive to play, but offers complex options to shape the sound and to route the audio effects stream.
Elastic FX features
Multi-effect app created by the developers of Elastic Drums.
4 effect units with different routing options.
Choose one of 32 available stereo effects in each effect unit.
Broad range of different effects of the following categories: Modulation, Pitch, Distortion, Filter, Delay, Reverb, Others.
Additional master effect section with level meters, 3 band equalizer, compressor, stutter fx.
XY-Pad to easily control the most important effect values (Kaoss Pad style).
Possibility to automate/record the XY-Pad tweaks (1,2,4,8 bars length).
Automated tweaks and some effects (PingPong Delay) get played in sync via Ableton Link/Inter-App Audio.
Audiobus 3 support.
Inter-App Audio support.
Simple audio player to test the effects with audiofiles.
Tweak the most important parameters via Midi, Midi learn option.
Switch user-presets with Midi Program Change messages.
Save, load and share user presets.
Elastic FX is available for iPad for $6.99 USD. An iPhone/Universal version is planned for the future. This will be free for all iPad owners.
More information: MoMinstruments / Elastic FX