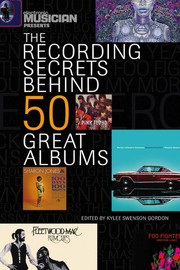 Backbeat Books has published Electronic Musician Presents The Recording Secrets Behind 50 Great Albums edited by Kylee Swenson Gordon.
Culled from 10 years of the Electronic Musician, Remix, and EQ magazines' archives, the articles in The Recording Secrets Behind 50 Great Albums will enlighten readers about the recording and songwriting techniques that helped create 50 great albums, spanning as far back as 1967 and as recent as 2011, revealing the methodology of numerous talented artists, producers, and engineers.

Ranging from such seminal classics as Fleetwood Mac's Rumours, Aerosmith's Toys in the Attic, and the Who's Quadrophenia to recently recorded works by Danger Mouse, Foo Fighters, and Phoenix, this compilation of articles taps into the inner studio realm of a wide range of artists, crossing boundaries of era, genre, geography, and recording style. But what these articles have in common is a wealth of behind-the-scenes secrets that inform how many amazing sounds and songs were captured and constructed. Musicians craving great tips and advice to pursue their own musical dreams – as well as fans interested in how their favorite artists made their music – will find a treasure trove of stories from the long-respected music-production magazines that dug deep to capture all of the juicy recording details.
The book is available to purchase for $16.99 USD.
More information: Backbeat Books